Foundation Repair Expert Phoenix Arizona (602)418-2970
Concrete Foundation Cracks
Horizontal cracks in your outside foundation stem wall? This could be a serious problem. Usually these horizontal cracks are a result of the re-bar oxidizing. When re-bar rusts it grows in volume putting pressure on concrete, at first cracking it and given enough time will fallow the re-bar all the way around the stem wall, causing water to inter the interior cement slab.
Heaving Concrete Foundations
There are two common methods for lifting a sunken concrete foundation, piering and slab-jacking. Piering fixes concrete foundations by placing supports underground that lift and support the concrete. While, slab-jacking fills the space under the slab with a cement grout mixture that floats the foundation back to its original position. Concrete Repairman will be able to asses which repair method is best suited for your foundation issues.
Stem Wall Repairs & Inspection
Repairs to stem walls using the highest quality cement materials known to mankind. 4 generations of knowledge handed down from generation to generation with the latest improvements. Concrete Repairman is one of only a very few repair specialist that know how to patch foundations properly. Highly skilled employees, trained by James Belville will make the highest quality repairs to your foundation using the highest quality products. If you think that there is a problem with your foundation, call a professional foundation repair contractor for an assessment of your property.
Concrete Floor Grinding & Leveling
Cracks in foundations, slabs and stem walls are a sign of damage by movement. These cracks are caused mostly by water damage near the foundation, causing the foundation (stem wall) to sink, ultimately, causing the interior slabs to rise at the fracture points. These fractures and damage can crack tile, and pull up wood flooring and laminate floors. Installing wood flooring, tile or laminate on these floors, will take large grinding and leveling equipment. Concrete Repairman has the latest equipment to level floors and grind your cement slabs for any type of flooring issue.
Foundation Repair & Inspections
Phoenix Foundation Repair by Concrete Repairman is a licensed, bonded, and insured repair contractor, servicing the state of Arizona. Working as a foundation repair company we have many years of experience in foundation inspections, repairing foundations, grinding concrete, patching concrete, working on foundation stem walls, fixing heaved concrete floor slabs, and repairing slab cracks. We are home foundation experts, with years of experience with building foundations, commercial floors and residential foundation problems. Contact us today for all of your home foundation needs.
– Attention Home Owners – Realtors – Banks –
All Foundation Inspections Include:
Detailed summary video of the inspection.
Inspection Report; Detailed information about why these problems happen and what repairs are needed.
Estimate; Detailed list by line each repair with description and price of that repair.
W-9, Insurance certificate, and workman's comp certificate.
All repairs are warrantied.
Please Feel Free to Call us if You Have Any Questions – (602)418-2970
Home Foundation Repair Before
Home Foundation Repair After
See what our repair clients say about us!
Our Foundation Inspection Videos
Foundation Inspection Video
Foundation Repair Warning Signs
Small Cracks in a Foundation?
Spalling Concrete Foundation
Foundation Repair Contractor in Phoenix Arizona
Discovering that your home has developed some foundation damage can be pretty alarming news. Foundation repairs can be quite costly, particularly when the problem is not caught at the beginning stages. The repairs that are made need to be done correctly, and to provide long-term corrections for the problem. This means finding and hiring the right home foundation repair specialist. James Belville is a 3rd generation concrete master. With over 33 years of experience there is not much James hasn't seen. He is very familiar with soils, and conditions thru out the state of Arizona.
As you begin the process of selecting a foundation repair expert like James, start by learning as much as you can about different methods that are used to repair damage such as yours. You should at least have an idea of what it is going to take to fix your foundation, and what methods are recognized as being the most effective. Cheap prices should not be the criteria that you consider. You usually get what you pay for.
The International Code Council Evaluation Services (ICC-ES) is a non-profit organization that was formed to provide some standardization to repair methods and building code compliance. The organization evaluates foundation repair methods to determine their effectiveness in correcting the issue and for complying with building codes. Narrow your search by including only those repair specialists whose repair methods have been evaluated by the ICC-ES. Our Expert Foundation Repairmen only use approved and proven methods.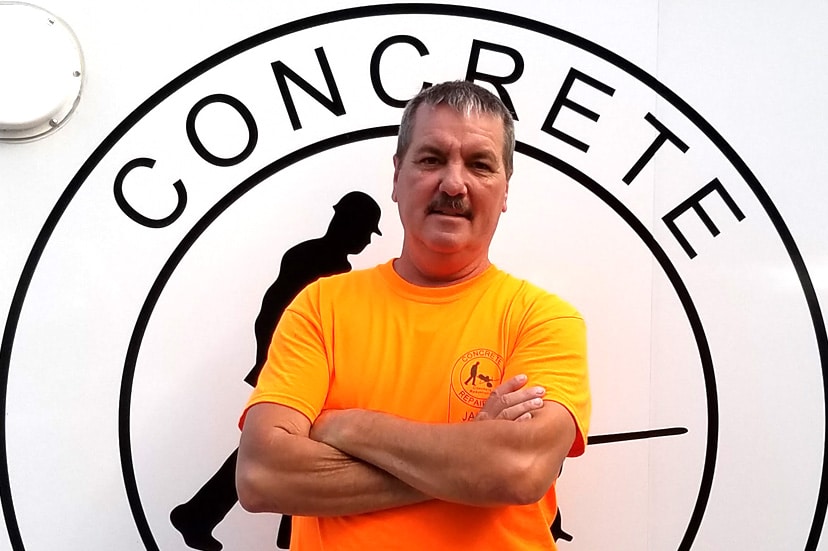 James Belville
Foundation Repair Expert
Concrete Repairman LLC – a fully licensed, bonded and insured foundation repair company serving customers in Phoenix and surrounding areas in Arizona. We have over 30 years of experience installing, and repairing, home foundation cracks, floor crack structural stitching, floor leveling, stem walls, post tension, monolithic and resurfacing foundation damage for homeowner, and commercial clients in Arizona.
Foundation Repair Services
Foundation problems like settlement, can lead to major structural problems, foundation cracks, slab cracks and vertical cracking in your homes stem walls, horizontal and vertical cracking. Repairing these types of foundation cracks, Concrete Repairman LLC, a local licensed concrete repair contractors fix repair and resurface these types of home foundation problems. Making these types of foundation repairs can be a costly job, but the better educated homeowners are about types of foundation cost and how best to repair those foundations, the better you can work with your contractor to find the right solution that is affordable. Here are a few things that can influence the cost of a foundation repair.
Resale Values of Your Home
One of the biggest problems homeowners have find themselve in is when the buyers inspection finds problems with the foundation making your home difficult or impossible to sell. You must disclose, by law, any work that you have had done on your foundation when it is listed for sale, but if you have had hydraulic piers installed in some cases that could be seen as an asset. In areas known to have expansive soil issues, having hydraulic piers installed can be seen as a solution to a problem that most homeowners in the area will encounter.
Piering and Slabjacking
Common methods for lifting a sinking concrete foundation: piering and slabjacking. Piering places supports underground that lift and support the concrete foundation. To use piering, the foundation repair professional will need to dig many feet into the ground to solidify the pier which is then placed under your foundation and raised with hydraulics to lift the foundation back into place,stabilizing the foundation in that area. This repair methods require the use of multiple piers placed at different points under the foundation.
Foundation Inspection
Concrete Repairman foundation inspections include a detailed report diagnose & repair types of foundation failure and damage, like foundation cracks, masonry foundation crack patterns, movement, leaning, or bowing foundation walls. Having a foundation repair and the estimate of the repairs needed to solve these foundation issues will go a long way with the banks and possible buyers of your home.
Call Our Expert Foundation Repairmen Today! – Thank you.